Fan Art: The Good, The Bad, and The Ugly
It's probably hard to believe, but our fan art program has been around for nine whole months!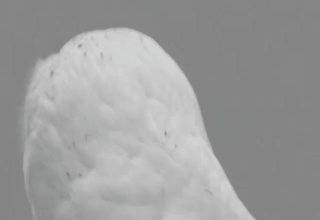 During that time, we've heard a whole gamut of merited opinions. While this process of working closely with rightsholders is a step towards the future, we totally understand the frustration you may be experiencing now. Don't get us wrong--we want ALL your art on TeePublic, but like any healthy and stable relationship, a partnership with rightholders requires some experimentation. In trying something new, not everything works perfectly the first time. But you always learn to improve for the next time!


With apologies to one of the best Westerns around, we wanted to lay out, once and for all, the good, the bad and the ugly of the fan art on TeePublic.

The Good
Let's get to the good stuff first! The Fan Art program is something we're super excited about, and we want to make sure you're just as thrilled as we are, so let's dig in:
Being officially-licensed through the Fan Art program safeguards artists from DMCAs

.** The program also gives TeePublic the opportunity to "resurrect" some past DMCA'd designs - so if your design was previously removed, you may be able to sell it again if the rightsholder approves it!

Each property will have guidelines posted

with info on what to avoid, and ways to help ensure designs get reviewed.

Pro tip

: before uploading fan art, make sure you're following the design guidelines for that brand!

Your fan art will be validated by the rightsholders themselves.

The program is an incredible opportunity for artists to feel closer to some of the brands they know and love!

Some of these brands are used to commissioning only 1 or 2 artists a year to make a small number of licensed designs, so having your art approved for licensing by them is a

big step in embracing their community.

Your design will have security and longevity you can count on.*

For some artists whose older designs have just recently entered the review process, we understand it can be frustrating that they now have to wait to be reviewed. But the value in getting a design approved is that your design will be locked-in as officially-licensed;** not to mention, you'll have an official relationship with the rights holder or brand in question (even if it is through TeePublic)!

This could lead to even bigger opportunities!

The Fan Art program is still young and we're super excited to see what it has in store for us. We're thrilled that artists on TeePublic are able to work with some of the biggest brands on the planet, and we can't wait to see what you do with this chance!
The Bad
Much Ado about Mashups:

We know that mashups are a huge source of creativity and fun for artists, and as much as we love seeing the clever combinations you come up with, unfortunately mashups are off-limits when it comes to properties participating in the Fan Art Program. The reason for this is pretty simple: Rightholders can't officially license a design if another party's Intellectual Property is included in any way. For example, let's say William Shakespeare and Leonardo da Vinci were both alive today, and William Shakespeare approached TeePublic about joining the Fan Art Program and wanting to review all Shakespeare-related designs on the site for possible licensing. Now let's say that you have a really awesome mash-up design where you draw William Shakespeare in the style of the famous The Mona Lisa painting. Since that design is related to William Shakespeare, it would be reviewed as part of the Fan Art Program, but Shakespeare wouldn't be able to approve that design for official licensing since The Mona Lisa isn't his intellectual property. Since Leonardo da Vinci is the one who owns the rights to The Mona Lisa, Shakespeare can't officially license it as his own.

The Waiting Game: There's no way around it - these things take time. Not only is this a new program for TeePublic, but this is a new program for most rightsholders and is a huge departure from how they've historically handled licensing merch. As with any new process, there is a lot to learn and a lot of busy schedules to squeeze new processes into. All this ends up meaning: time. Review waiting periods vary and are sometimes a lot longer than we would hope for (and longer than we may have initially communicated). The important thing to focus on is that, even though new things often require patience and come at the cost of the speed we're used to, we ultimately feel it'll be worth the wait, and that the artist community will benefit overall from the security and longevity of their licensed designs.**

Growing Pains: As with any new program, there is a learning curve here. We fully acknowledge that it hasn't always rolled out as smoothly as we would have liked. We always welcome your feedback on any pain points about the Fan Art Program and hope you take comfort in knowing that we're always thinking about ways to make improvements, and learning from our own mistakes along the way.

"You're Putting $ and Corporations Ahead of Artists"

:

Every decision we make at TeePublic we make with the artist community in mind. From a revenue perspective, having more designs for sale on TeePublic without restrictions would of course only be to our benefit. So, entering into partnerships like this is NOT just about money at the expense of our artists' feelings or creative freedom. We are thinking more in the long term and from a legal perspective with regards to the Fan Art Program, and for a lot of artists, the opportunity to be licensed is a really exciting prospect that sets TeePublic apart from other POD sites. As this program continues and our relationships with rightsholders grow, we'll make it a priority to advocate for artists along the way, whether in terms of turnaround times, approval rates, or more lenient guidelines.
The Ugly
There are, of course, some other issues that have come up which we wanted to mention, too. They're these not-quite-good, not-quite-bad situations that warrant some discussion. Here's one we've heard...
You followed all of the guidelines, but your art still wasn't approved

:

We are so bummed that that happened to your art. We're sure you spent a lot of time on it, and it would've been wonderful to see it become officially licensed! Unfortunately, this is one of those hard truths about attempting to get official licensing for your art: the rightsholder ultimately decides what makes its roster. This can occasionally mean that you follow all of the guidelines closely, but your art is still not included. Please keep in mind that we are unable to ask the rightsholder why certain pieces are accepted and others are not.





Ultimately, we hope that this temporary setback doesn't deter you from trying again with a different piece or a different brand. One of the great things about art is that one creation often leads to another, so please keep trying new things! We're partnering with more brands all the time, so be sure to check that list for more.
A healthy and stable relationship requires understanding and compromise, and we hope that you, as an artist, have faith in that idea, the same way the rightsholders do. A relationship such as this also requires the openness to experiment and try new things, which we know isn't always easy. But we have devised and grown this program with the belief it will allow for continued creative fan art expression for years to come. We know this program has developed quickly and that some beloved designs had to be taken down, and with that, hours of work. But we wouldn't be investing in this program unless we thought there was a long-term benefit to the program which would allow us to continue to be a trusted marketplace for artists and their art. As always, if ever you have any questions about this program, feel free to reach out to legal@teepublic.com.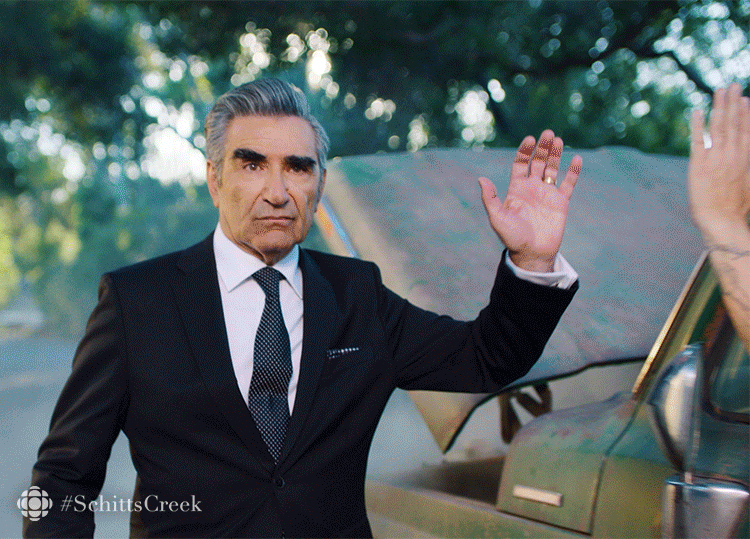 Ready to try your hand at fan art? Check out the details of the program and the guidelines for each brand partnership. And if you're not on TeePublic, don't forget...
P.S. Looking for a crash course to the fan art program? Got you covered. Also, check out this great flow chart below: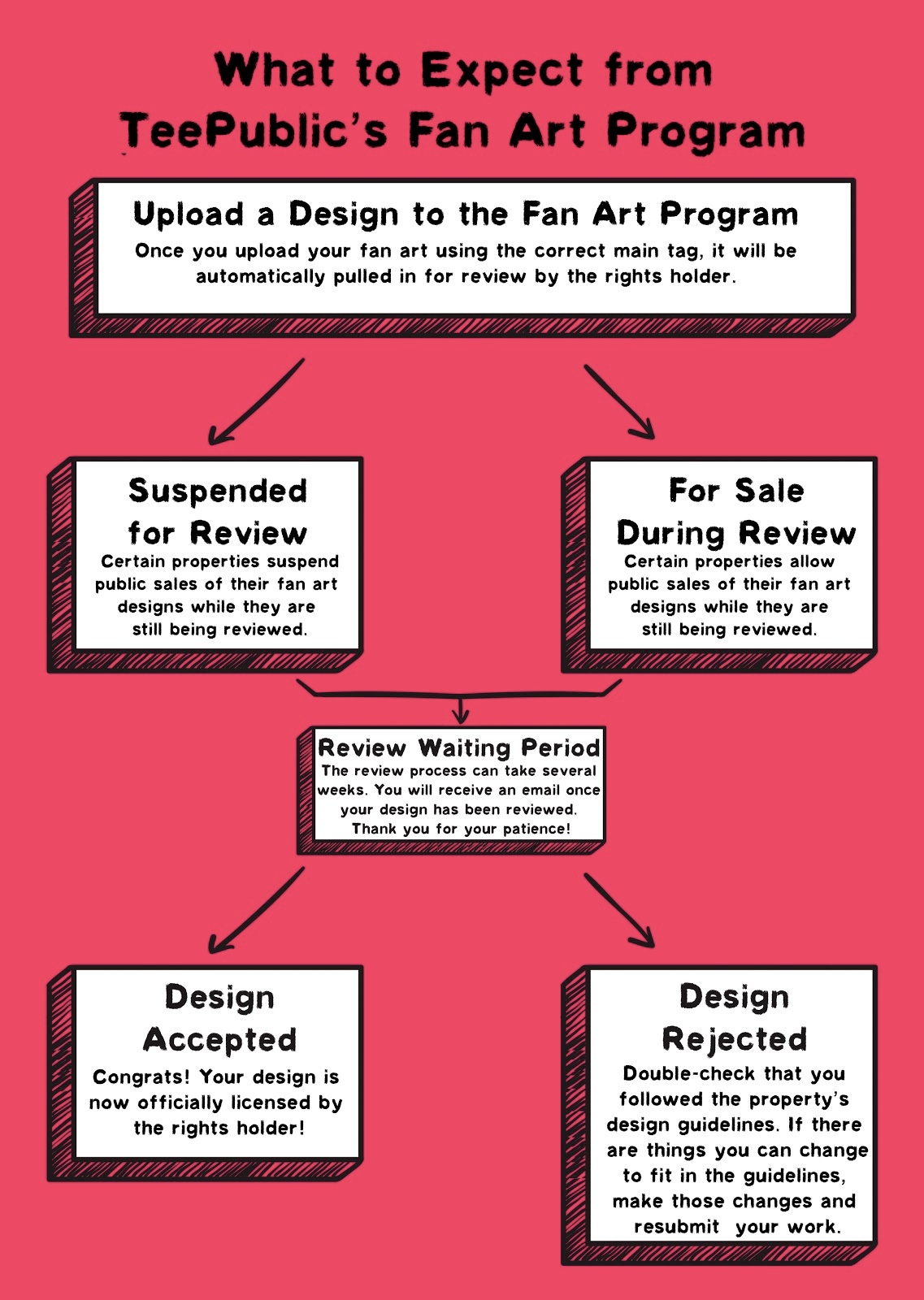 *Licensing will safeguard your works on TeePublic for the duration that the property maintains a relationship with TeePublic.
**Licensing gives official licensing to works that would otherwise have been removed via a DMCA from the rightsholder. While we do our best to catch all 3rd party mashups in designs, licensing does not protect your design from other DMCA claims against those designs if they contain any third-party content that was missed by our review team.